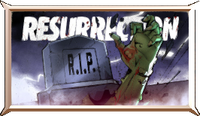 Resurrection is one of the Dirty Tricks the players can use in Mutant Football League.
Teams
[
]
All teams can use this Dirty trick.
Abilities
[
]
Resurrection brings one dead mutant back to life with full health. In Season or Playoff mode, this Dirty trick may revive anyone, regardless of when they died.
Resurrection is not available at the start of a game. Players must earn a Resurrection in the Ref Rampage mini-game during halftime.
In Season or Playoff mode, if automatic resurrection is turned off (permanent death), the player-controlled team gets four Resurrections per week for use before each game. The team gets eight if they are playing a game after one of their bye weeks or before the Divisional Round of the MFL Playoffs.
Counterplay
[
]
There is no counterplay against the trick itself. The revived player, however, can die all over again.
Resurrection is not as big a factor in games set to resurrect players after each play.
Penalties
[
]
There are no penalties for resurrecting a player.
Manual
[
]
Description from the Official Game Manual:
Resurrection Dirty Tricks are very rare and can be won during the Halftime show by surviving and scoring at least 500 point bonus. The Resurrection Dirty Trick will appear in your dirty tricks formation, and when used can resurrect a dead player from your bench. I know, right? How cool is that?